Om Yoga Magazine
Pulled BBQ King Oyster Mushroom Tacos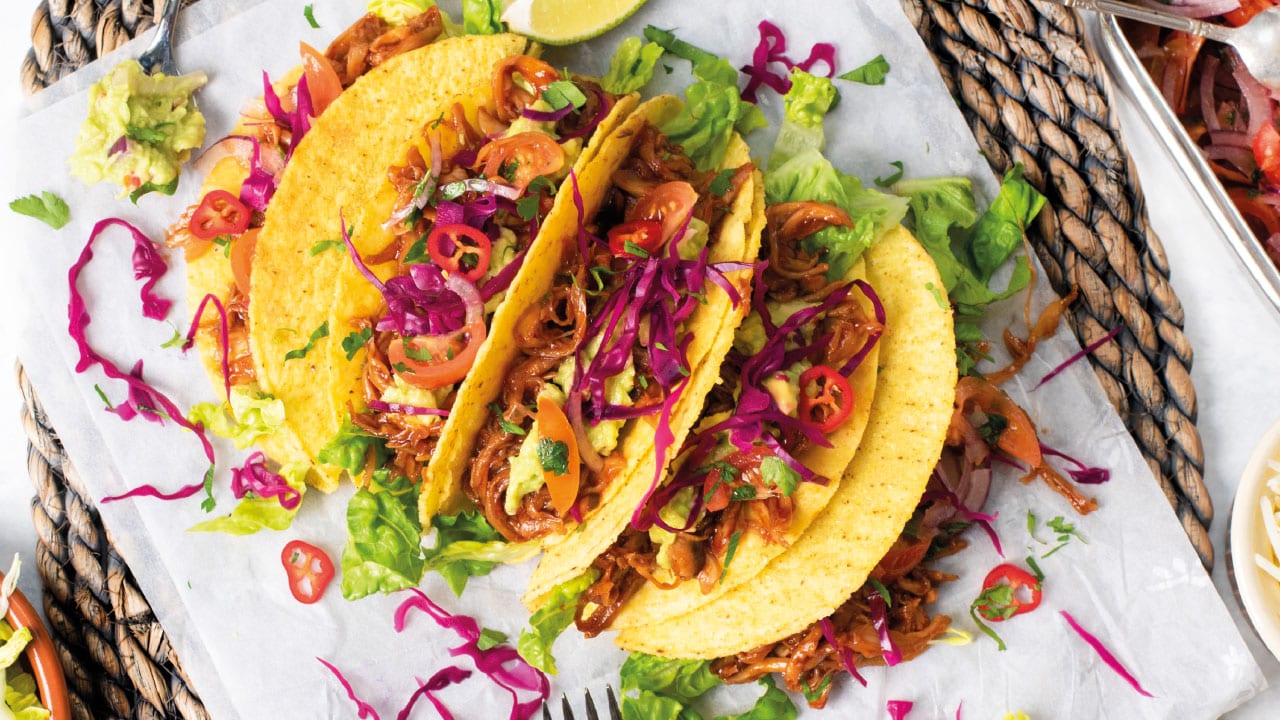 Pulled BBQ King Oyster Mushroom Tacos
These pulled mushrooms in a smoky and sticky BBQ sauce replicates traditional pulled pork tacos perfectly. The pickled cabbage helps to cut through the smokiness of the BBQ
For the fennel pickled red cabbage

240ml (8 fl oz) white wine vinegar

100g (3.5 oz) red cabbage, shredded
100g (3.5 oz) soft brown sugar

2 tbsp Worcestershire sauce

Proin nibh nisl condimentum id venenatis a condimentum
To make the pickled cabbage, put the vinegar, sugar and fennel seeds in a medium sized saucepan and bring to the boil. Once boiling, remove from the heat and add the red cabbage and leave to cool.

For the pulled mushrooms, hold the whole mushroom in the palm of your hand and scrape down the stalk of the mushroom with a fork to shred it, creating the 'pulled' texture.

Heat the oil in a medium-sized pan over a medium heat. Then add the pulled mushrooms, fry for 1-2 minutes, and then add the soy sauce and cook for a further 1-2 minutes.

Next, add the passata, soft brown sugar, Worcestershire sauce, liquid smoke and smoked paprika to the mushrooms and cook on a medium heat for 4-5 minutes until sauce starts to thicken and go sticky

To serve, fill the taco shells with the lettuce and pulled mushrooms, and top with guacamole, tomato salsa and the pickled cabbage.
The post Pulled BBQ King Oyster Mushroom Tacos appeared first on Om Yoga Magazine.
www.ommagazine.com