Green room ideas promise to renew your connection to nature and is said to evoke feelings of balance, vibrancy and good fortune. It comes to life with plenty of natural light but can also work in a dark narrow space. 
Decorating with green can allow for you to get back to nature with a fresh palette. 'It's all about what you pair it with,' says Judy Smith, color consultant for Crown Paint. 'Greens with a blue base are impactful colors, so introducing softer tones of clay white and chalky grey in furniture and accessories and keeping to a light, natural flooring will help to balance a scheme and add a calming quality.'
Meanwhile, greens with a yellow undertone such as olive pop alongside metallic gold or bronze touches that enhance their warmth and give them shine. 'My go-to colors are green with a touch of gold,' says the artist and designer Margit Wittig. 
'I've worked with chartreuse, emerald, turquoise and a pop of fuchsia pink. The use of color in lighting adds character to a room: it's like creating jewellery for the interior.'
1. Take green to kitchen cabinets
On of the most on-trend of kitchen colors, green kitchen ideas are perfect for cabinetry, walls and accessories, and you can pick from muddy, moody shades for a traditional feel, and brighter greens for a livelier space. 
Green, like most shades, looks fabulous with white – and is perfect for cabinetry and backsplashes, if you are looking for classic painted kitchen ideas. You can't beat the clean crisp feel that the two colors together create – especially in modern rustic or country kitchens with low ceilings.
2. Find a subtle and delicate color combination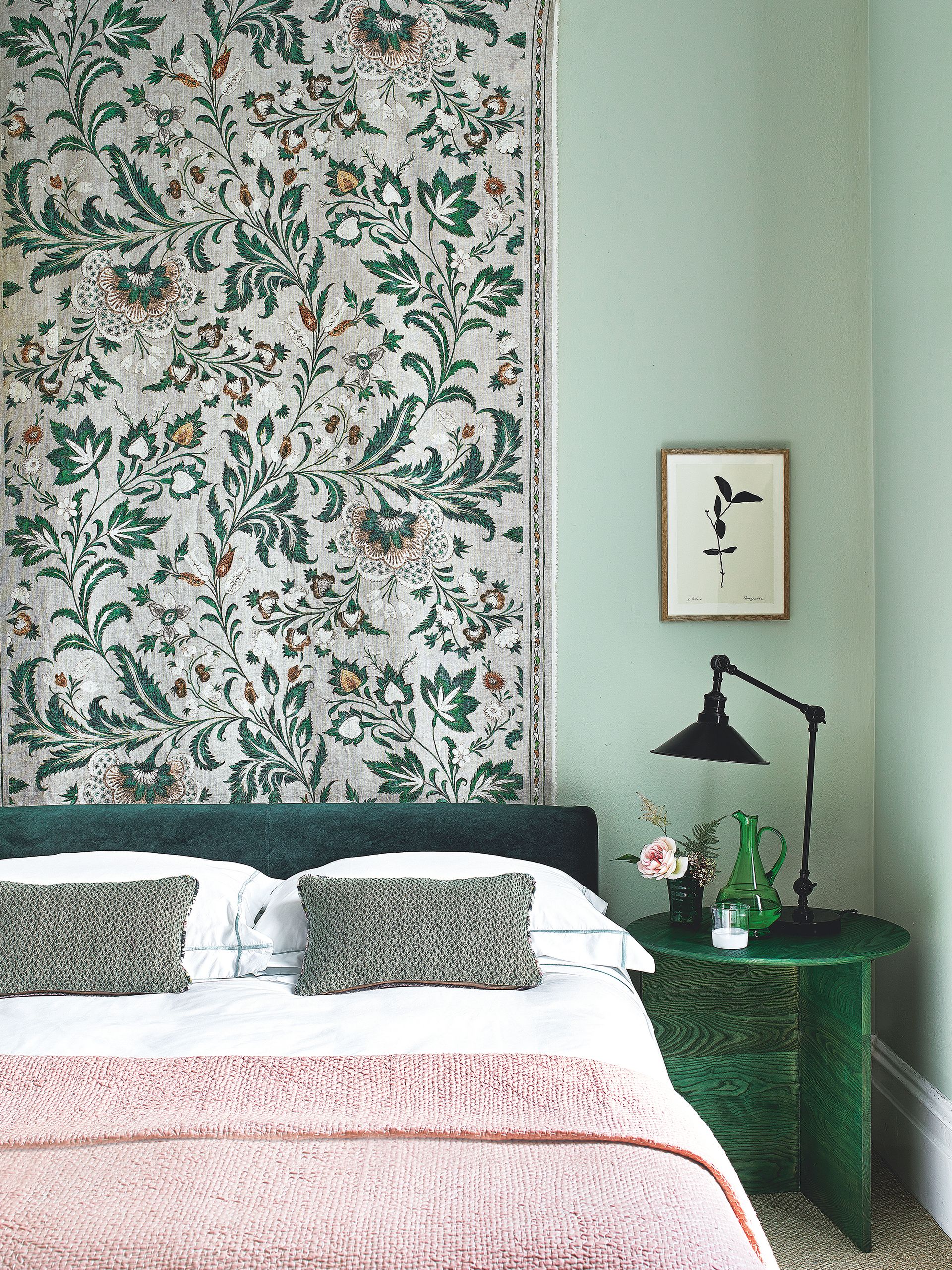 Interior designer Kate Guinness (opens in new tab) believes that finding the perfect color combination to go with green is all about the particular mood or atmosphere you want to create. 'Pinks always work really well with greens though most other colors can work too, depending on the shade chosen.'
This green bedroom is soft, delicate and soothing – just what you want for the most used space in your home.
3. Go for green-on-green 
If you are looking for gorgeous green living room ideas, chalky sage green is a restful choice, especially for sunny, south- or west-facing rooms. The obvious choice for patterns in a green living room is foliage-inspired but we love to match this with graphics for a more modern appeal, seen here in the smart bold stripe armchair from Ceraudo (opens in new tab) and elegant rug with scallop edge detail. 
4. Use green as an accent color
Forgo any notions of the avocado green bathroom of the 80s. These days, green bathroom ideas are subtler, sophisticated and elegant. Here, a charming cottage-style white bathroom teamed with a green bathroom floor tile idea and half wall is ample for adding color into an otherwise neutral scheme. 
We all know the healing properties of green. It comes in a huge array of shades, which is why a green bathroom is such a good choice. Get the tone right and you'll wonder why you've never considered this bathroom color idea before. 
5. Choose a sophisticated deep green for a kitchen
'I first used Farrow & Ball's Studio Green in my own tiny green kitchen in London,' says Henriette von Stockhausen (opens in new tab), co-founder of VSP Interiors. 'I was amazed how well it worked in a small space even though it's so dark. This rich tone defines a space and almost makes the walls disappear. It works in contemporary settings as well as very traditional spaces and is wonderful backdrop for art – gilt frames have never looked better.'
6. Pick a cool green for a busy, smaller space
Switch up your scheme by looking at existing pieces with fresh eyes. Kitchen cabinetry is an ideal vehicle for a color. Here Neptune (opens in new tab)'s Henley kitchen is painted in Sage – a light green – perfectly suited to country kitchens and works well with beams and chunky white ceramics. If you want to add a contrast color, a pop of raspberry pink will enliven a space.
7. Pick out a green detail for a living space
Add a pop of green on furniture. Deep colors are the way to go this season and work especially well against a light backdrop. 
Celebrated interior designer Nina Campbell is a big fan of using green in interiors but counsels approaching using it with caution,  suggesting that it's at its most powerful when used to add a finishing touch to a special piece of furniture or one specific area of your room. 
Nina Campbell reveals how to use green in interiors at greater length in our dedicated feature.
8. Use green to extend your view 
Green is a great choice for a hall or living room – particularly one that offers views of the garden beyond. 'If you think of the color green in garden, it's the backdrop for the whole setting – the foliage, grass and trees,' explains Emma Deterding, founder and creative director of Kelling Designs. 'You can really see how any color will go with it.
9. Bring outdoors in with a leafy green wallpaper
Connecting to nature is more important than ever, and you can achieve this by using touches of green in your rooms. Here, the green and white scheme gives this space a light touch, despite the pattern-on-pattern approach.
10. Choose green for a soothing entryway
Magnolia founder and HGTV's Fixer Upper star Joanna Gaines is also a big fan of using green, and gave away her tips for using green recently – the most important being to use tones inspired by nature. That doesn't mean, however, that you can't contrast it with bolder shades.
While green is widely regarded as one of the easiest colors to decorate with – you can pair various shades of it with just about any other color – it's also thought that green rooms make us feel positive. 
If the ceiling heights and aspect allow it (ideally, tall in the first case and north/north-east in the last), then create a wow factor by choosing one of the color's more high-impact hues. 
11. Make a dark hallway lighter by using green on white
If your hallway – or any other room – is light-starved, a great way to introduce soothing green is as an accent within a wallpaper, with the background a bright, light-reflecting, space-enhancing white. Adding a contrasting rug as in the green room idea above gives the space added interest and edge. For more inspiration, see our collection of green hallway ideas.
12. Create unusual combinations with green
It's not in everyone's power to mix patterns in a room with colors successfully, so Tricia Guild, founder and creative director of Designers Guild (opens in new tab) suggests choosing three or four shades, one of which is green for a beautiful and earthy green dining room.
'Always remember that color and pattern is a reflection of your personality so be brave and embrace it. I would also suggest keeping floors and ceilings neutral or white to prevent a space from becoming overwhelmed. 
'If you are drawn to a varied color palette, I would suggest you try and keep the look tonal and use lots of different textures within that palette – just think of a rich velvet pile, lustrous silk, smooth cotton or a crisp linen – each texture brings with it its own quality and captures light differently.' 
13. Pick a warm green to raise the temperature
'Olive green brings an enveloping aesthetic to any space – and works particularly well in rooms with good natural light as the sunlight enhances the softer tone,' says Judy Smith of Crown. 
But in a green bedroom, it adds a freshness and provides a base from which personality can shine through, setting the tone for the rest of the home.
We recommend using it with creams and whites to keep a sleep space bright and airy. Avoid going too dark either with the green or combining colors, or you might feel you're entering an oppressive pine forest.
14. Choose green as your backdrop for bolder shades
'Pale green makes a beautiful, almost neutral, backdrop against which to showcase bolder colors,' says Lucy Searle, Editor in Chief of Homes & Gardens. 
'And, as you can see in the picture above, taken from one of our decorating photo shoots, it goes with almost any other color. The only visible architectural element of this room, the door frame, is painted in a putty pink, which is the exactly the same tone as the green; this allows for bolder colors to be used for the accessories, which are the focal points of the room.'
How can I make my green rooms look good?
To make green rooms look good, it's important to do a little in-room research first. To begin with, consider the room's natural light. Is it a cool, east- or north-facing light that the room gets or a warm one? Knowing this will help you choose a balancing shade – warmer ones for cooler rooms and cooler ones for warmer rooms.
Next, consider the mood you want to create – cozy and enveloping, in which case a darker green will suit – or light and airy, in which case you will want to choose a paler shade.
What colors complement green?
All colors complement green – including brights, like red, cool tones, like blues and naturals, such as browns. However, choosing accent colors – whether that is the green or another color – needs to be done carefully to ensure there's harmony, which is what green is all about, rather than contrast. You can use our guide to using the color wheel for more help with this.
Article source: www.homesandgardens.com